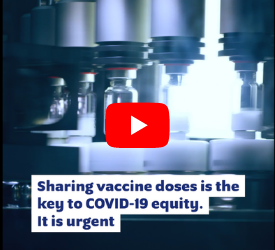 Five Steps to Urgently Advance COVID-19
Vaccine Equity
Innovative vaccine manufacturers and biotech companies have outlined Five Steps to urgently advance COVID-19 vaccine equity and help bring the pandemic under control. Whilst extraordinary achievements have been made, vaccine doses are not reaching all priority populations worldwide. Action is needed in five areas:
#1 :stepping up dose sharing
#2 :continuing to optimize production
#3 :removing trade barriers
#4 :supporting country readiness
#5 :driving further innovation

To promote our Five Steps , we are rolling-out a social media campaign which includes videos and blogs focusing on the real bottlenecks and practical solutions needed to supply COVID-19 vaccines for the world.
Step 1: Step up dose sharing
Sharing vaccine doses is the key to COVID-19 vaccine equity and it is urgent. Countries with more supplies than they need are pledging to share doses, but many low- and middle-income countries are yet to receive enough vaccines. To bridge the gap, promises made depend on 4 things. Watch the video here
A number of countries with access to sufficient doses to vaccinate their own populations have pledged 1 billion doses so far for low- and middle-income (LMIC) countries in 2021 and 2022. We now need to ensure those pledges are realized and vaccines reach those who need them most. Read the blog here.
Step 2: Continue to optimize production
From zero to billions: manufacturing COVID-19 vaccines is a colossal challenge. Boosting production is the key. With nearly 300 manufacturing agreements with trusted partners to scale up production, the industry is on target to produce 11 billion vaccine doses by the end of 2021, but rapid action is still needed to tackle manufacturing bottlenecks Watch the video here
Boosting production of COVID-19 vaccines is key to ensuring there are enough doses for all populations most at risk. But manufacturing COVID-19 vaccines at the volumes the world needs is a colossal challenge and scarcity of raw materials and trade barriers could upset estimates that 11 billion doses – enough for the world's adult population – can be produced by the end of 2021. Read the blog here.