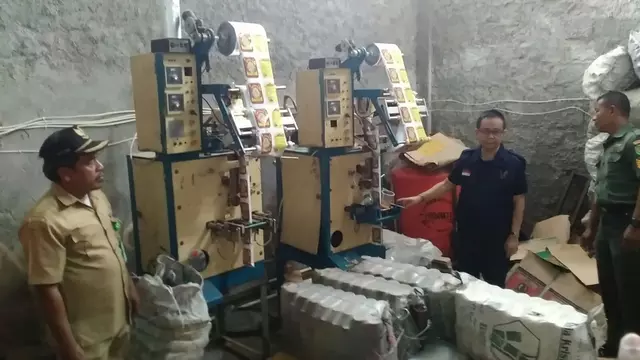 PROJECT HOMEPAGE I FOUND A BUG FORK CKEDITOR ON GITHUB CKEDITOR BLOG CKEditor Sample START TOOLBAR CONFIGURATOR Edit your toolbar now! Congratulations! If you can see CKEditor below, it means that the installation succeeded. You can now try out your new editor version, see its features, and when you are ready to move on, check some of the most useful resources recommended below.
Achmad Sudarno -- liputan6.com -- Rabu, 03/02/2016
Jakarta - Sebuah pabrik obat dan jamu ilegal di Kampung Jampang, Desa Jampang, Kecamatan Kemang, Kabupaten Bogor, digerebek petugas dari Badan Pengawas Obat dan Makanan (BPOM) bersama Bareskrim Polri.
Petugas menyita 17 jenis jamu cair berbagai merek yang mengandung zat kimia berbahaya yang dikemas dalam botol dan kemasan lain. Di antaranya merek Mahkota Dewa dan Tawon Klenceng, Madu Klenceng, dan Cap Putri Sakti.

Selain mengamankan ratusan dus jamu, petugas juga menyita sebuah mesin produksi yang ditaksir senilai Rp 1,1 miliar.

Seluruh produk jamu, kemasan dan alat produksi senilai Rp 1,1 miliar itu selanjutnya diangkut dibawa ke Jakarta sebagai barang bukti.

Seorang penanggung jawab pabrik jamu diamankan petugas. Petugas pun akan memanggil pemilik pabrik.

"Saat ini petugas masih mengintrogasi pria berinisial JH yang berperan sebagai pengawas di pabrik tersebut," kata Kepala Pusat Penyidikan Obat dan Makanan BPOM Hendri Siswandi, Selasa (2/2/2016).

Pengakuan pekerja, pabrik yang memiliki pegawai sebanyak 50 orang sudah beroperasi 3 bulan lalu. "Dan obat dan jamu ilegal sudah diedarkan ke wilayah Jabotabek, Pulau Jawa dan Sumatera," kata dia.

Hendri menjelaskan, jamu yang diproduksi oleh pabrik yang berada di tengah perkampungan itu, selain tak berizin, pengemasannya dilakukan di luar standar Kementerian Kesehatan. Bahan baku obat dan jamu lebih banyak mengandung zat berbahaya bagi kesehatan.

"Kandungan kimia yang berlebih pada jamu itu bisa merusak ginjal, jantung dan menimbulkan penyakit kanker," kata Hendri.

Ia mengaku akan menelusuri dari mana pemilik pabrik mendapat bahan dasar obat yang berbahaya itu. "BPOM akan menelusuri lebih jauh," tutup Hendri.
Customize Your Editor Modular build and numerous configuration options give you nearly endless possibilities to customize CKEditor. Replace the content of your config.js file with the following code and refresh this page (remember to clear the browser cache.html)! CKEDITOR.editorConfig = function( config ) { config.language = 'es'; config.uiColor = '#F7B42C'; config.height = 300; config.toolbarCanCollapse = true; }; Toolbar Configuration If you want to reorder toolbar buttons or remove some of them, check this handy tool! More Samples! Visit the CKEditor Examples for a huge collection of samples showcasing editor features, with source code readily available to copy and use in your own implementation. Developer's Guide The most important resource for all developers working with CKEditor, integrating it with their websites and applications, and customizing to their needs. You can start from here: Getting Started – Explains most crucial editor concepts and practices as well as the installation process and integration with your website. Advanced Installation Concepts – Describes how to upgrade, install additional components (plugins, skins.html), or create a custom build. When you have the basics sorted out, feel free to browse some more advanced sections like: Functionality Overview – Descriptions and samples of various editor features. Plugin SDK, Widget SDK, and Skin SDK – Useful when you want to create your own editor components. CKEditor JavaScript API CKEditor boasts a rich JavaScript API that you can use to adjust the editor to your needs and integrate it with your website or application. CKEditor – The text editor for the Internet – https://ckeditor.com Copyright © 2003-2019, CKSource – Frederico Knabben. All rights reserved.